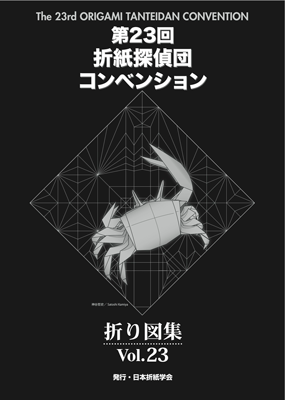 Normal Shipping
Registered Shipping

JPY(PAYPAL) 4,290

Shipping and Handling fee included.

The package without registered is not insured and it is not traceable. We strongly recommend to choosing "Registered Shipping" if you have any worries about shipping.
We will not be held responsible if package is lost once shipped by the post office without being registered.
In the following countries, there have been non‐arrival of books sometimes recently in Normal shipping.
China, Vietnam, Columbia, Bolivia.

JPY(PAYPAL) 4,840

Shipping and Handling fee included.


Send us an International Postal Money Order or use PayPal ("Buy now" button). see How to order for detail.
国内編:Models by Japanese Folders
Regular octahedron / Fumiaki Kawahata
Half Skeletal Regular Octahedron / Jun Maekawa
Diamond BOX / Toshikazu Kawasaki
Lucky Elephant / Hiroo Kamo
Elephant / Yukihiko Yamaguchi
Giraffe / Eiji Sakai
Pig / Hidehisa Inayoshi
Rabbit / Seishi Kasumi
Chihuahua / Hiroaki Kobayashi
Kiwi / Ryosuke Sakurai
Shoebill / Kohe Kamei
Flying bird / Yoshimasa Tsuruta
Owl ver.3 (with legs) / Yoshio Tsuda
Long-tailed Tit / Kyohei Katsuta
Toribou / Katsuhiko Yamakita
Flycatcher / Noboru Miyajima
Rooster / Gen Hagiwara
Sea Turtle / Seiji Nishikawa
Sail fish / Dai Watanabe
Fiddler crab / Satoshi Kamiya
Airliner / Hitoshi Kakami
Jack-O'-Lantern / Hiromi Takagi
Jack-o'-Lantern / Itsuki Minami
Godzilla / Takaya Inoue
Dragonet / Makoto Kunimune
Firebird / Masato Kikuchi
French Fries / Yuga Arisawa
Flower Motif B / Tetsuya Gotani
海外編:Models by Foreign Folders
2Sided Sakura Star / Ali Bahmani
Chequered Spinner Cube / Max Hulme
ALMOND / Ekaterina Lukasheva
African Elephant / Ryan Welsh
Rhinoceros / Pham Hoang Tuan
Camel / Marc Kirschenbaum
Horse / Max d'Anger
Goat 2015 Ver. 2.2 / Ronald Koh
Vicuna / David Llanque
Wild Boar / Yoo Tae Yong
Lobo / Yery J. Astrona
Baby Rabbit / Javier Vivanco
Dachshund / Wil Chua
Duck / Jeong Jaeil
Cat / Andrey Ermakov
Rat / Mindaugas Cesnavicius
Grumpy Frog / Oriol Esteve
Toad / William Hartman
Cardinal / Ta Trung Dong
Cardinal / Beth Johnson
Blue Jay / Ryan Dong
BARN SWALLOW / Wil Chua
Guppy / Winston Lee
Shark / Kade Chan
Happy Whale / Nguyen Hung Cuong
Purple Tang / Winston Lee
Veiltail goldfish / Jacksiel Rivas
MAMMOTH v1.2 / Tran Trung Hieu
Luster dragon / Lee, In Seop
Giraffe Weevil / James Lucas
Lorry / Mark Bolitho
Arm chair / Mark Bolitho
I Love You / Xiaoxian Huang
Little girl / Chenxiao
Ghost / Oriol Esteve
Guy Fawkes / Quentin Trollip