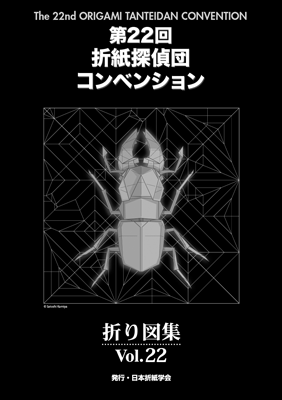 About international shipping
We resume an international shipping by "Airmail" because still SAL shipping is suspending.
However, still some countries has not accept Airmail items yet. so please confirm the following page whether your country accept the Airmail or not before ordering.
Service availability by country(Japan post)
JPY(PAYPAL) 5,030
Shipping by Registered Airmail and we will send the confirming email with registered number after we sent the book.
Shipping and Handling fee included.
国内編:Models by Japanese Folders
Brick BOX/Akiko Yamanashi
Garnet/Seishi Kasumi
Six Sheep Box/Toshikazu Kawasaki
Hounds Tooth/Noboru Miyajima
Crescent/Hitoshi Kakami
KadomaTsuru/Yuga Arisawa
Bathtub/Erika Matsui
Shampoo Bottle/Shun Kato
Peach/Yukihiko Yamaguchi
Rose3/Seiji Nishikawa
YOKOZUNA/Katsuaki Sawashima
Guppy/Shotaro Mineo
Manta/Koji Ouchi
Betta/Kaede Nakamura
Monkfish/Takuro Kashiwamura
Grampsu/Fumiaki Kawahata
Balinese Sitting Cat/Hiroo Kamo
OWL/Jun Maekawa
Owl letter rack/Yoshio Tsuda
Owl/Yuta Katsuzaki
little bird/Dai Watanabe
Sparrow/Takaya Inoue
French Bulldog/Yoshihisa Kimura
Rabbit/Yoshimasa Tsuruta
Rabbit/Hiroaki Kobayashi
Squirrel/Hidehisa Inayoshi
Wolf/Gen Hagiwara
Bear/Eiji Sakai/li>
Pasang/Aoto Morisawa
Chameleon 18°/Yuichi Itagaki
Horse/Atsunori Muraki
Unicorn/Tetsuya Gotani
Lucanus maculifemoratus/Satoshi Kamiya
ATD-X/Ryo Aoki
海外編:Models by Foreign Folders
CHEF'S KNIFE/Ivan Danny Handoko
SECRET FLOWER/Ekaterina Lukasheva
Shoes op.84/Andrey Ermakov
Origami shirt/Quentin Trollip
Miyazaki Mask/James Lucas
SHORE CRAB - CUA/Pham Hoang Tuan
Goldfish/Ta Trung Dong
Goldfish/Chenxiao
Gourami/Winston Lee
Vaquita/Jacksiel Rivas
Narwhal /Ryan Welsh
Cat/CHUNG
Ribbon Kitty/Michelle Fung
Bunny/Ryan Dong
Elephant/Chenxiao
Baluchistan pygmy jerboa/Yery J. Astrona
Frog/Max Hulme/li>
Turtle/Mindaugas Cesnavicius
Rooster, Chicken/Victoria Serova
Spectacled Bear/Marc Kirschenbaum
MONKEY/David Llanque
Mountain Gorilla/Ronald Koh
Lagartija/Roman Diaz
THE OWL RIDER/Eric VIGIER
Mariposa/Richard Ojeda Soto
Darwin's beatle/Manuel Sirgo
F-22 Raptor/Max d'Anger