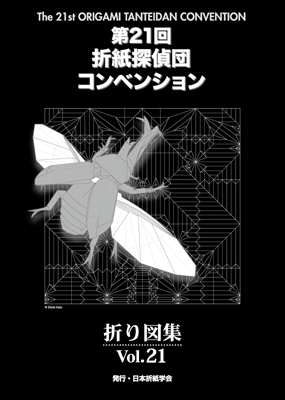 Normal Shipping
Registered Shipping

JPY(PAYPAL) 4,090

Shipping and Handling fee included.

In the following countries, there have been non‐arrival of books sometimes recently in Normal shipping.
China, Vietnam, Columbia, Bolivia.
In particular, we only accept registered shipping for mail to CHINA where problems are frequently occurring.
The package without registered is not insured and it is not traceable. We strongly recommend to choosing "Registered Shipping" if you have any worries about shipping.
We will not be held responsible if package is lost once shipped by the post office without being registered.

JPY(PAYPAL) 4,640

Shipping and Handling fee included.


Send us an International Postal Money Order or use PayPal ("Buy now" button). see How to order for detail.
国内編:Models by Japanese Folders
ECHIDNA/Miyuki Kawamura
R-DECO/Miyuki Kawamura
Baobab tree/Toshikazu Kawasaki
A Branch Of The Flower/Noboru Miyajima
Ginkgo Leaf/Naoto Horiguchii
Japanese Maple Leaf/Hidehisa Inayoshi
A4-Box & Rose decoration/Seiji Nishikawa
Mandarin gown/Koji Ouchi
Fingerpuppet with a mustache/Takashi Hojyo
Stackable basket/Erika Matsui
Pad/Ryosuke Sakurai
Kick scooter/Seishi Kasumi
Santa Crane/Yuga Arisawa
CAT FISH/Tetsuya Gotani
Dried fish/Shun'ichi Ashimura
Mola/Aoto Morisawa
Cockatiel /Hitoshi Kakami
Horned Owl/Hiroo Kamo
Owl with feather/Yoshio Tsuda
Wasp/Kaede Nakamura
Cameleon/Dai Watanabe
Pug/Hiroaki Kobayashi
Phoenix/Jun Maekawa
Zebra/Yoshimasa Tsuruta
Sheep /Satoshi Kamiya
T-rex/Fumiaki Kawahata
Stegosaurus/Tetsuya Gotani
Stegosaurus/Fumiaki Kawahata
GODZILLA/Takaya Inoue
Dragon/Hideo Komatsu
海外編:Models by Foreign Folders
Zoe Star/Maria Sinayskaya
Stella dell'Avvento/Francesco Mancini
The Rising Sun/Dorde Jovanovic
Tank 3/JANG yong-ik
Pick-Up/Stefan Delecat
RYU KIN 2.1/Richard Ojeda Soto
Veiltail Angelfish/Quentin Trollip
Cuttlefish/Ryan Welsh
Whale/Ryan Dong
Turkey/Ryan MacDonell
Robin/Winston Lee
Saber Tooth Tiger/Ryan Dong
Sea slug/Erick Jacksiel Rivas Zarco
Lizard/Chris Heynen
Cute Cobra/Lo Yu
Guinea pig/Mindaugas Cesnavicius
Rat (Ver. 1.2)/Ronald Koh
Raton/Yery J. Astrona
Peacock/Marc Kirschenbaum
Rabbit/Yoo Tae Yong
Goat/Nguyen Hung Cuong
Buffalo Bull/William Hartman
Rhinoceros/Ta Trung Dong
Wasp-equestrian/Pavel Nikulshin
Flying Kabutomushi/Shuki Kato
Baby Dinosaur/Jens Kober
HJ Rex/Jason Ku